FROM JANUARY 18, 2020 TO APRIL 05, 2020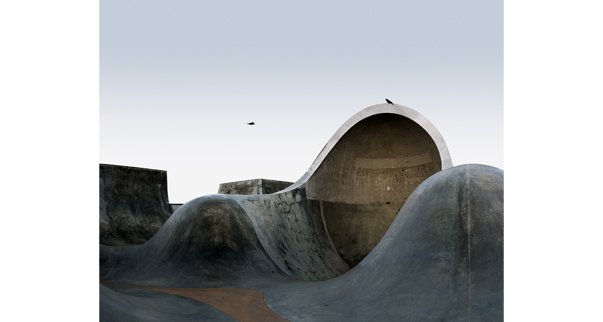 Empty Vessel – Amir Zaki presents two new bodies of photographs by Amir Zaki featuring either vacant landscapes of California skateparks or still lifes of shards from broken, ceramic containers. The shards are clearly from earthenware pots, but both subjects are "vessels" in that the skateparks are sunken into the clay of the earth. Hung in proximity to one another, sometimes juxtaposed, the images generate a complex conversation around the notion of "emptiness," which includes removing presuppositions from one's mind about what one is about to experience, is experiencing, or has experienced. By disentangling the mind of one's own stories and worries, one can be open to other possibilities presented by perception itself. Thus Zaki's Empty Vessel, as an exhibition, provides a platform for contemplating duality and the more ambiguous third space that exists between linked elements which cannot exist without each other: form and emptiness; function and aesthetics; holding and letting go; containing and emptying.
Empty Vessel – Amir Zaki is accompanied by Zaki's first internationally distributed monograph, "California Concrete: A Landscape of Skateparks," published by Merrell Publishers, with essays by the artist, famed skateboarder Tony Hawk, and Los Angeles-based architect Peter Zellner.
Empty Vessel—Amir Zaki was originally organized by the Frank M. Doyle Arts Pavilion, Orange Coast College, and curated by Tyler Stallings, director at The Doyle. Lead sponsorship of the exhibition at UCR ARTS is provided by UCR College of Humanities, Arts, and Social Sciences, and the City of Riverside.
address:
CALIFORNIA MUSEUM OF PHOTOGRAPHY – UCR ARTS
3824 Main Street
Riverside, CA 92501