FROM MARCH 14, 2020 TO APRIL 18, 2020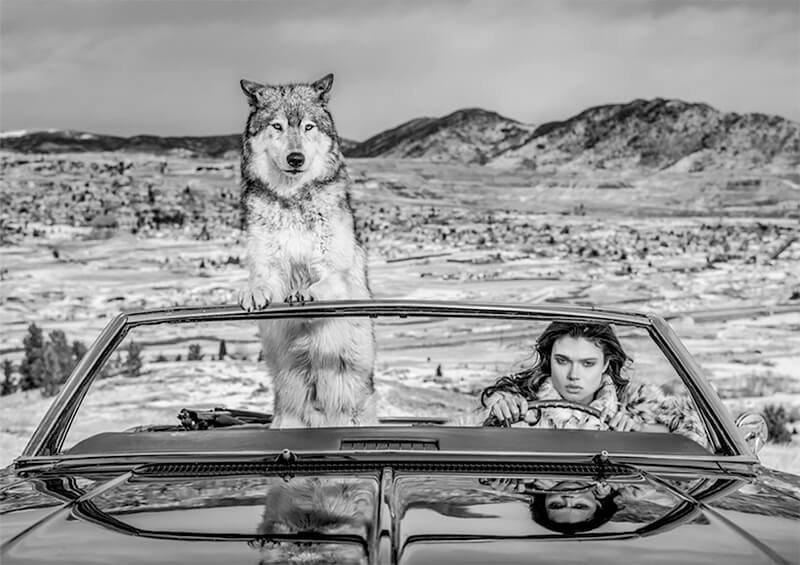 David Yarrow has cemented his position as one of the most sought-after fine art photographers in the world, accumulating an impressive and growing following by prominent art collectors and celebrities like Tom Brady, Leonardo DiCaprio, Cindy Crawford, Gordon Ramsey, and Cara Delevigne. Yarrow's popularity is not only a result of his fearless approach in capturing wildlife photography but also for his stewardship in helping preserve the magnificence and challenging realities of the planet's global ecosystems.
In the pursuit of making his famous shots, through some of the most challenging photographic sessions and throughout the most inaccessible areas on the planet, Yarrow's photographs present the vitality and dignity of the planet's most majestic creatures. As a photographer and a conservationist, Yarrow has been awarded ambassador roles, able to present images showing a dynamic and mesmerizing world. On the flip side, his different body of work shows a creative staging of cinematic influences and often humorous interactions of wild animals with "wild" rugged individuals in bars, cars, open roads, and Western-inspired settings.
David Yarrow started his photographic career precociously with an extraordinary moment; in 1986, he captured football legend Diego Maradona raising the FIFA World Cup in a stadium of more than 100,000 spectators. The image was published extensively and made him an accredited and often requested sports photographer who had begun to capture humanity's exciting moments. Yarrow had a highly successful career in the London financial market, and later on, rededicated himself to his first love – photography. Yarrow then shifted to landscape and wildlife photography, maturating as an artist. His desire for fresh, new images in a world flooded with an almost endless image-making drew him to remote locations around the world. The stimulation and prospect of unspoiled places, far from the familiarity of the city, offers new challenges for the photographer.
David Yarrow's work ethic is relentless; His pictures are clear and sharp because he gets close. How does Yarrow get so close? Before a shoot, the photographer does extensive research and preparation. When it was not possible to get physically near enough to the animal, he developed a technique with remote-controlled cameras and unorthodox angles to allow a more intimate portraying of his subjects. Yarrow's authenticity requires a complete immersion in the process of the shoot, whether that means encountering bears head-on in Alaska, having his camera carried away by lions, or surviving a plane crash in the Sahara.
Yarrow's work requires access to remote locations. For example, he was permitted by the Chinese government to take pictures of Tigers in Siberia, through his philanthropic relationship with HRH the Duke of Cambridge, who had previously gifted the president of China one of his images on a State visit. For his shooting of a wolf in a bar, he coordinated the photograph after "long conversations with the Montana government…and "access, preparation, homework." His work has taken him around the globe and gaining access, no matter what the difficulties, has been a prerequisite for his success.
Most recently, David Yarrow traveled to Australia to document the bush fires that are devastating to the region, stating on his site:
>A brutal week of stark realities has inspired him to create a campaign called The #KoalaComeback campaign to try and raise $2 million for WildArk and Global Wildlife Conservation to support the recovery in the field.
David Yarrow continues to create work that elevates the genre of wildlife fine art photography, making philanthropy and conservation a central beneficiary of his artistic ideology.
address:
HOLDEN LUNTZ GALLERY
332 Worth Avenue
Palm Beach, FL 33480
via: all-about-photo