Firmware update adds remote camera control and tally light function for broadcast and pro streaming using ATEM Mini switcher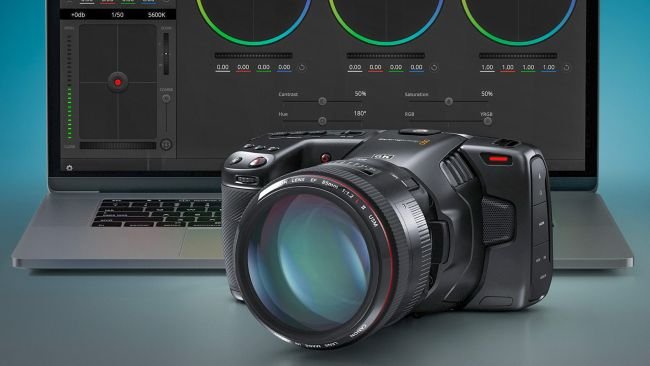 Blackmagic Design has released firmware updates for its Pocket Cinema Cameras that turn them into fully-fledged studio cameras. The free upgrade allows the Blackmagic Pocket Cinema Camera 4K and the Pocket Cinema Camera 6K to integrate with the recently-released ATEM Mini production switcher to create a set-up that is perfect for professional multi-camera streaming set-ups and for live broadcast.
The new features include controlling the tally light on the front of the camera to show which camera is live. The live camera is indicated through a red LED, a camera , and the one in program preview (ie the camera that will be live next) has an green light, and an orange light shows a camera that is recording video internally..
The ATEM Mini and the accompanying free ATEM Software Control app now allow you to set a variety of key camera setting remotely through the console controls.
At the launch, Blackmagic Design claimed that when the launched the $295 ATEM Mini last year they had expected this to be used with lower-end camcorders, webcams, and streaming cameras. However, the company has noticed that the switcher was already being used by Pocket Cinema Camera owners is more professional situations – and this motivated them to add this additional functionality.
At the same time, Blackmagic has introduced a new big brother to the low-cost switcher, in the form of the Blackmagic ATEM Mini Pro which adds extra features to the ATEEM Mini – such as the ability to record a live broadcast to a USB drive, and the ability to stream without the need of additional computer software.

Camera control is offered via the HDMI connection, which is available as soon as customers plug the cameras in. The ATEM Software Control camera page has a camera control unit (CCU) style interface for adjusting and matching the cameras. You move the CCU control vertically for iris and left to right to adjust black level – mimicking the controls you get in a professional broadcast suite.
There are also controls for color tint, focus, gain and shutter speed. Although the set-up is aimed at live streaming, the cameras can additionally record internally in Blackmagic RAW for a more polished edit