October 19, 2019 to February 16, 2020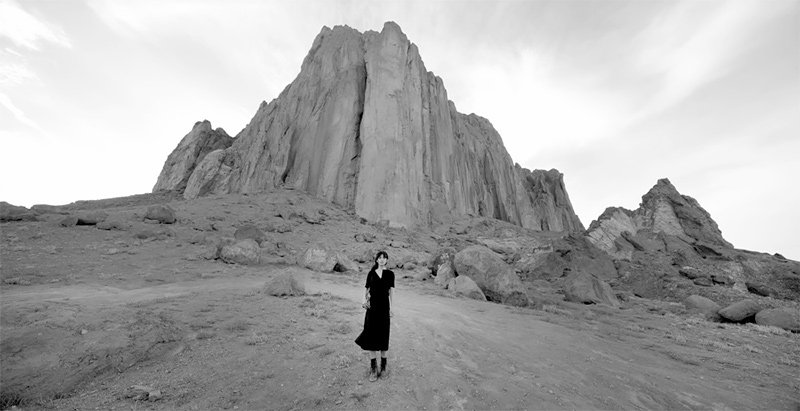 Originated by The Broad, Shirin Neshat: I Will Greet the Sun Again is the largest exhibition to date of internationally acclaimed artist Shirin Neshat's approximately 30-year career. Taking its title from a poem by Iranian poet Forugh Farrokhzad, the exhibition (which presents over 230 photographs and eight immersive video installations works) offers a rare glimpse into the evolution of Neshat's artistic journey as she explores topics of exile, displacement, and identity with beauty, dynamic formal invention, and poetic grace. Beginning with her early photograph series, Women of Allah, the exhibition also features iconic video works such as Rapture, Turbulent, and Passage, monumental photography installations including The Book of Kings and The Home of My Eyes, and Land of Dreams, a new, ambitious work encompassing a body of photographs and two videos that will make its global debut in the exhibition.
Throughout her career, Neshat has constructed poetic worlds in which women and men navigate narratives that mirror interior and political realities. Inside of and against these metaphoric worlds, Neshat studies the specifics of both individual and cultural gestures and poses, often assembling and interviewing real people who have lived through some of the most turbulent events of recent history, including the Green Movement in Iran and the Arab Spring in Egypt.
Neshat's 2001 collaboration with composer Philip Glass, Passage, will act as a pivot in the exhibition from Neshat's early, personal work made specifically about living outside of Iran during some of the most turbulent times in the country's history to new bodies of work which reflect universally on seismic global political events such as 9/11, the Arab Spring, and the current xenophobia in the United States over immigration. Four galleries in the exhibition feature work never-before-seen in the United States, including a body of portraits made in Iran that Neshat has never shown publicly.
address:
The Broad
221 South Grand Avenue
Los Angeles – 90012 CA
via: all-about-photo