With 4K shooting, high-speed hybrid AF, and in-body image stabilization this beast of the camera is not just about the megapixels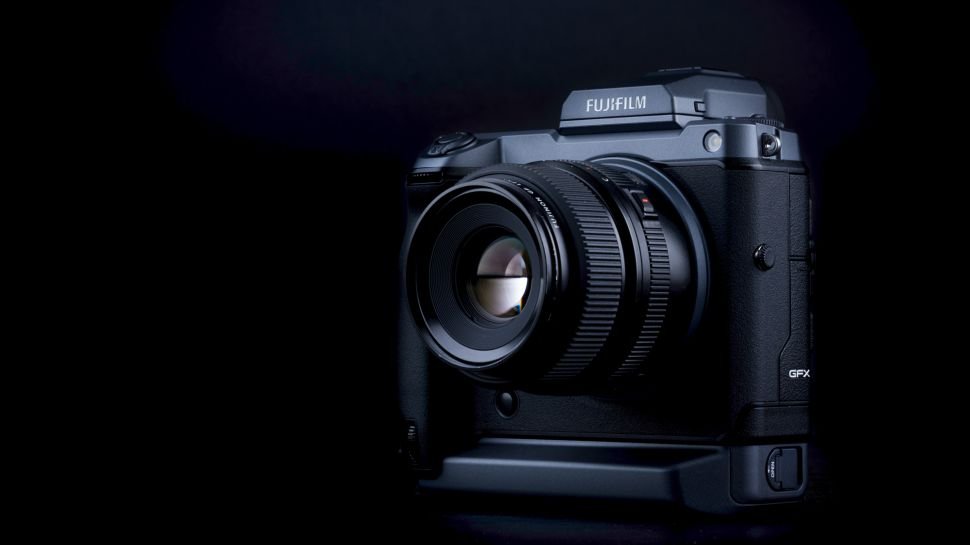 Fujifilm's mega 100 megapixel medium format mirrorless camera is finally here. The Fujifilm GFX 100 was first announced as a concept at Photokina last year, and we got to handle an early prototype at The Photography Show in March – but now the full specification of this beast of a camera is finally here.
Going on sale from the end of June for $9,999 / £9,999, this third camera in the GFX range offers much more than a doubling of megapixels. The 102MP backlit CMOS supersized sensor is only part of a camera that (even if only some will be able afford it) will rewrite the rulebook on medium format cameras.
In almost every way, the GFX 100 improves on the specification found on the existing GFX 50S and GFX 50R cameras in the Fujifilm G-mount medium format range. Autofocus, image stabilization, burst shooting, videography and more have all been improved by the use of a new processor that is four times faster, with a data rate of 1 GB/s.
• Fujifilm GFX 100 vs GFX 50S: how they compare
The GFX 100 becomes the first medium format camera to offer in-body image stabilization. The five-axis IBIS system offers up to 5.5 stops of vibration reduction – which means that despite the camera's size can be used in a variety of situations without the need for a tripod, and with any G-mount lens. The five-axis arrangement  means the sensor is stabilized not only against pitch and yaw (up/down and right/left tilting) but also against shift (horizontal) and roll (rotational) movements.
It is also the first medium format camera to offer uncropped 4K video shooting. Shooting at 10-bit 4:2:2 4K 30p video, when connected to an external recorder, means that the camera will appeal to serious filmmakers looking for the cinematic look that the large sensor can offer.
When the standard digital cinema format (17:9) is selected, the GFX 100 records video with a sensor area measuring 43.8 x 23.19mm – larger than many high end cinema cameras. There are LOG and HLG options too – allowing professional control over dynamic range.
Hybrid autofocus
The autofocus on the GFX 100 has been significantly improved, by the incorporation of a hybrid autofocus system that is already used on cameras like the Fujifilm X-T3.  3.76 million phase detection pixels, placed across the entire sensor, improve AF speed and precision. The effect is said to be particularly noticeable when using prime lenses, achieving speed improvement of up to 210% over the conventional contrast AF system used by other GFX models. Fujifilm also boast improvements to face and eye detection AF modes. Focus acquisition is quoted as an impressive 0.05sec and can work down to -2EV.
The camera is also the first Fujfilm to offer 16-bit RAW mode, and the option of 16-bit in-camera TIFF conversion.
Remarkably for a camera of this size, the continuous shooting capabilities of the camera have been improved to offer a top burst rate of 5fps, with a buffer capacity of up to 41 JPEGs (or up to 14 RAW files). The top speed on the GFX 50S was 3fps. The top mechanical shutter speed remains 1/4000sec, with a maximum electronic shutter speed of 1/16,000sec
Design and handling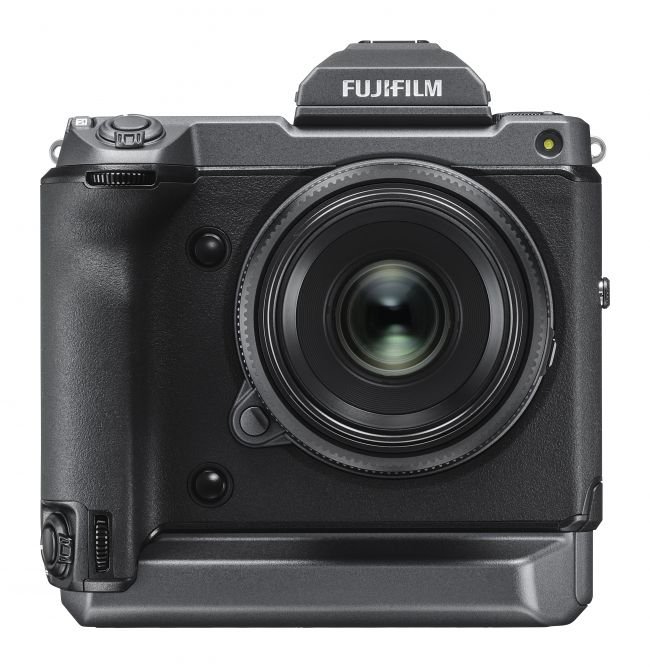 The GFX 100 adopts the detachable electronic viewfinder design that is found on the GFX 50S – but the resolution of this has been greatly improved to provide what Fujifilm is claiming as the word's highest resolution EVF – which uses a 5.76 million dot OLED panel, with a refresh rate of 85fps. The detail this give is said to ensure the focusing accuracy that is made essential by the 102MP sensor.
Round the back there is a 2.36 million dot tilting 3.2 inch LCD display – but there are two further panels. There is a 1.8 inch sub LCD monitor on the top panel (larger than that on the 50S) and a new thin 2.05 inch sub monitor on the rear. These monochrome panels show EXIF data, histogram and camera settings in large text. Various information can be allocated to each of the monitors (EVF, rear-panel LCD displays and top-panel sub LCD display) to make the viewfinder less cluttered and easier to use. This is said to ensure clear information visibility when shooting tethered or when the camera has to be placed in a position that makes it difficult to see the viewfinder or LCD.
Controversially, however, the ISO and shutter speed dials have been removed from the top plate – creating an interface that is less retro in design than its predecessors. "Buttons and levers for camera operations have been kept to a minimum for simple and easy to understand handling, whilst ensuring that you can hold the camera comfortably in the hand", the press release explains.
Unlike the GFX 50S, the vertical grip is not an optional extra, it is built in as standard. This not only ensures there is a separate shutter button for shooting images in portrait orientation – but also means that there are two rechargeable batteries offering up to 800 exposures between charges. The camera measures 156.2 × 163 × 102.9mm, and weighs 1400g (without lens, but with batteries, viewfinder and memory cards).
As with previous GFX models, the camera sticks with a dual SD slot for image storage.
The camera has a two-tone finish and a magnesium alloy body – and offers dust and weather resistance thanks to the use of no fewer than 76 seals across the body, and a further 19 seals in the detachable viewfinder. The shutter mechanism offers a lifetime of over 150,000 actuations.
Fujifilm GFX 100: price & availability
The GFX 100 is set to go on sale at the end of June. It will cost $9,999 / £9,999, for a body only package that includes the viewfinder and two batteries.
is nearly twice the price of the GFX 50S, although it is significantly cheaper than the price of its closest 100-megapixel rival, the Hasselblad H6D-100c, which retails at £31,000 / $32,995.
Via: digitalcameraworld