Mk 2 versions of classic manual focus primes add more iris blades, a lockable focus ring, and a de-clickable aperture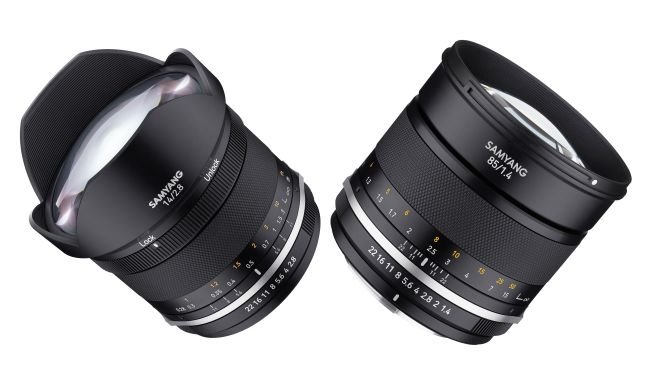 Samyang has made major updates to of its manual focus prime lenses – adding a range of useful new features to the classic designs. The Samyang MF 85mm F1.4 Mk2 portrait lens and Samyang MF 14mm F1.4 Mk2 ultra-wideangle offer a significant update to their predecessors. The optical construction of each remains the same, but the lenses have be rebuilt from the ground up.
The lenses will be available in six different mirrorless and DSLR lens mounts: Canon EF, Nikon F, Sony E, Canon EF-M, Micro Four Thirds, and Fujifilm X.
The four key new features on the lenses are:
– an increase of diaphragm blades. Both now have nine iris blades, promising improved bokeh characteristics, which will be particularly welcome on the 85mm f/1.4
– a focus lock mechanism – this allows you to set the focus distance for a series of shots, without having to re-adjust. This is particularly useful, say, when shooting nightscapes with the 14mm.
– a de-clickable aperture ring – that removes the usual detent stops when adjust the iris. This is a highly desirable feature for when using the lens for shooting video.
– weather sealing, with environmental seals located around the lens mount.
Samyang MF 85mm F1.4 Mk2 specs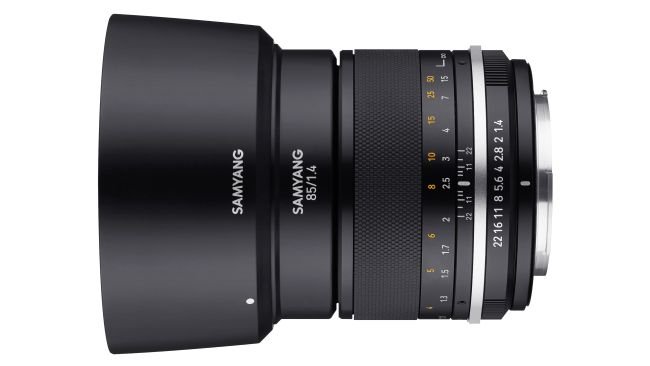 Focal Length: 85mm
Mounts: Canon EF, Canon EF-M, Fujifilm X, MFT, Nikon F, Sony E
Full frame: Yes
Autofocus: No
Image stabilization: No
Aperture: f/1.4-22
Lens structure: 9 elements in78 groups
Diaphragm blades: 9
Min. focusing distance: 1.1m / 3.6ft
Max. magnification: 0.09x
Filter thread: 72mm
Dimensions & weight (Canon EF): 78×74.7mm, 548g
Dimensions & weight (Nikon F): 78×72.2mm, 541g
Dimensions & weight (Sony E): 78×100.7mm, 599g
Dimensions & weight (Fujifilm X): 78x101mm, 592g
Dimensions & weight (Canon EF-M): 78×100.6mm, 593g
Dimensions & weight (Micro Four Thirds): 78×99.5mm, 587g
Samyang MF 14mm F2.8 Mk2 specs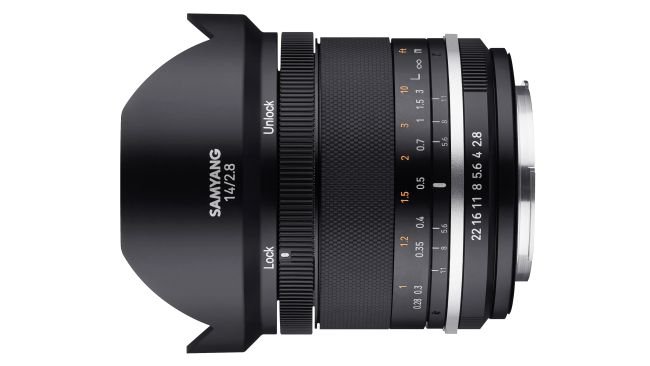 Focal Length: 14mm
Mounts: Canon EF, Canon EF-M, Fujifilm X, MFT, Nikon F, Sony E
Full frame: Yes
Autofocus: No
Image stabilization: No
Aperture: f/2.8-22
Lens structure: 14 elements in 8 groups
Diaphragm blades: 9
Min. focusing distance: 0.28m / 0.92ft
Max. magnification: 0.08x
Filter thread: None
Dimensions & weight (Canon EF): 87×96.1mm, 649g
Dimensions & weight (Nikon F): 87×96.3mm, 641g
Dimensions & weight (Sony E): 87×122.1mm, 708g
Dimensions & weight (Fujifilm X): 87×122.4mm, 694g
Dimensions & weight (Canon EF-M): 87x122mm, 695g
Dimensions & weight (Micro Four Thirds): 87×120.9mm, 649g
via: digitalcameraworld