Love boutique lenses? The 85mm Defocus Smoothing and 28-70mm f/2 lenses are just the beginning for the Canon EOS R
In a recent conversation with Canon, it became clear that a previously understated commitment to unusual, boutique lenses is very much the focus of the EOS R system going forward, with the manufacturer telling us that, "we're going to be bringing out these things that you just haven't seen before."
Ever since Canon announced its full-frame mirrorless system, the company has spoken at length about the brave new world that the wider-throated, shallower flange-distance Canon EOS R offers. And with the launch of its 85mm Defocus Smoothing optic, we finally understand what the manufacturer means.
The Canon RF 85mm f/1.2L DS lens produces bokeh with completely defocused edges around elements like 'bokeh balls', as opposed to the hard lines produced by standard lenses. This is achieved by a lens element with a special double-sided vapor-deposited coating.
Which is incredibly cool. However, the whole notion of this product – a £3,249.99 / $2,999, 1,195g special effect optic with a feature so niche that it actually impedes its headline f/1.2 light transmission – is the very definition of a boutique lens.
And this commitment to the boutique is going to be a major strength of the Canon RF lens roadmap. Not in producing the same old f/1.8 nifty fifties that every single system ever made has always had, but the experimental lenses, the quirky lenses, the non-mass market lenses… the 'just because we can' lenses that have never been done before.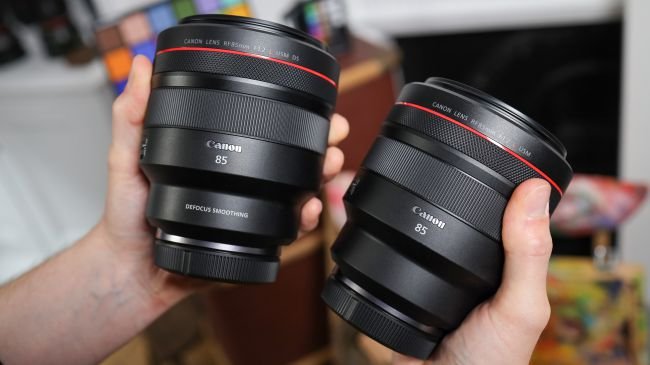 Canon isn't afraid to have overlapping lenses, if one is a boutique optic that shows what the RF mount can do
Indeed, the recent launch of the Canon RF 24-70mm f/2.8L IS USM lens further underscores this idea. After all, the company already produces the Canon RF 28-70 f/2L USM lens – a much larger, heavier and more expensive optic, and one that's somehow even more boutique than the 85mm Defocus Smoothing lens.
"Absolutely, it's a very specialist lens," says Canon UK's product intelligence specialist, David Parry, of the 28-70mm in particular. "And the idea of bringing that out, when we launched it first of all, was to show what the RF is about. We couldn't create that [with the EF mount]."
In the same way that most manufacturers usually label things like fisheye and tilt-shift optics as 'specialist lenses' in their line-ups, it seems that Canon is happy to produce overlapping boutique lenses such as the RF 85mm and RF 28-70mm just to demonstrate what the RF mount can do.
"You just know that the engineers in Japan probably got very excited – sketching something out and going, 'Wait a minute, we can make that now! Please can we make one?' And you can imagine that's the excitement that was there, to show what can be done.
"And that's not going to stop – I think that's going to go on and on, and I think we're going to be bringing out these things that you just haven't seen before."