Sony A7 users will now have option of Tamron 70-180mm f/2.8, 35mm f/2.8, 24mm f/2.8, and 20mm f/2.8 lenses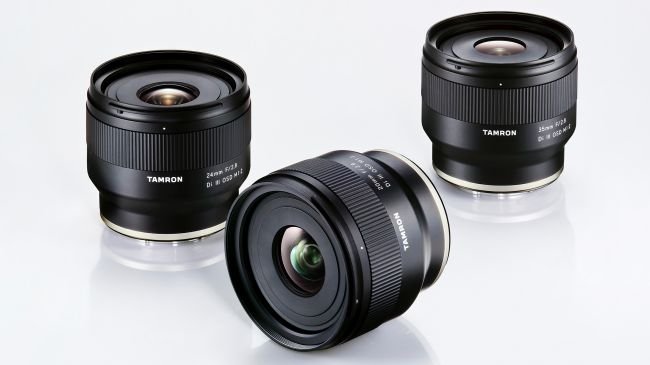 We had expected Tamron to announce the arrival of its quartet of lenses for the Sony E-mount mirrorless range of cameras at PhotoPlus Expo 2019, but in the end the news was released a day and a half ahead of the opening of the New York show.
Of the four new lenses one is a zoom, with a focal length of 70-180mm f/2.8 – and this is joined by three primes with focal lengths of 20mm f/2.8, 24mm f/2.8 and 35mm f/2.8.  These are the first primes that Tamron has produced in the Di III Sony E-mount range. Tamron has been teasing the arrival of these full-frame autofocus lenses for some weeks – but now we have all the specifications and details… including the fact that all four offer impressive close focusing characteristics.
Tamron 70-180mm f/2.8 Di III VXD
The Tamron 70-180mm f/2.8 Di III VXD is the latest of series of fast zooms that Tamron has produced for the Sony E-mount. Joining the 18-35mm f/2.8 Di III RXD and 28-75mm 18-35mm f/2.8 Di III RXD – the trio all offer a constant maximum aperture of f/2.8, and have focal length ranges that are designed to overlap. All three lenses will also share a common 67mm filter mount.
Unusually, the telephoto lens, does not quite have the same reach as the 70-200mm f/2.8 that is must-carry lens for serious portrait and action photographers. However, we will have a bit more of a wait to see how much of a problem this presents as the lens is not actually scheduled for release until Spring 2020.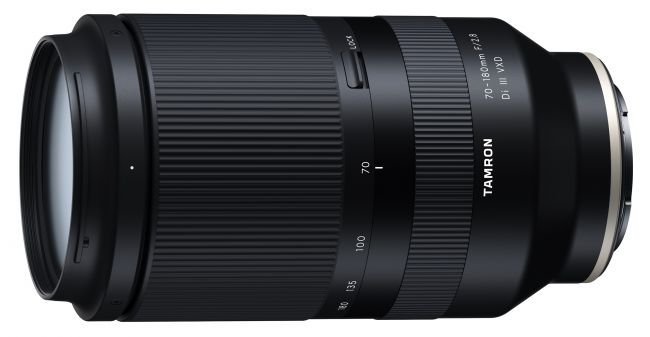 A benefit of the construction, however, is that the lenses closest focusing distance will be and impressive 0.85m (33.5 in) – that's 11cm closer than Sony's FE 70-200mm f/2.8 GM OSS. However, unlike the Sony zoom, there is no optical stabilization built in.
The lens features a newly-developed VXD (Voice-coil eXtreme-torque Drive) linear motor focus mechanism that is said to offer a quiet, quick autofocus drive. Other features include include a moisture-resistant construction helpful, and a fluorine coating for easy maintenance of the front element.
The lens measures 149mm / 5.9 in long, and weighs 815g / 28.7oz.
20mm f/2.8 Di III OSD M1:2
'The Tamron 20mm F/2.8 Di III OSD M1:2 is the widest of the three wide-angle primes that is being introduced. But despite its ultra-wide focal length, it will share the same 67mm filter ring as its two siblings. All three lenses will also offer an impressive 1:2 maximum magnification ratio – allowing you to get closer to the foreground subject than many rivals.
Key specifications for the Tamron 20mm F/2.8 Di III OSD M1:2 are:
Model number: Model F050
Focal length: 20mm
Autofocus: yes
AF drive: OSD (Optimized Silent Drive)
Mount: Sony FE
Filter size: 67mm
Optical construction: 10 elements in nine groups
Diaphragm: seven blades
Maximum magnification: 1:2
Minimum focus: 0.11m (4.3 in)
Maximum diameter: 73mm / 2.9in
Length: 64mm / 2.5in
Weight: 220g / 7.8oz
24mm f/2.8 Di III OSD M1:2
The 24mm f/2.8 Di III OSD M1:2 has the same length and diameter as both the 20mm and 35mm lenses – and again the standout feature here is the minimum focusing distance… focusing down to 12cm and offering the same half-life-size 1:2 maximum magnification.
Its full specifications are:
Model number: Model F051
Focal length: 24mm
Autofocus: yes
AF drive: OSD (Optimized Silent Drive)
Mount: Sony FE
Filter size: 67mm
Optical construction: 10 elements in nine groups
Diaphragm: seven blades
Maximum magnification: 1:2
Minimum focus: 0.12m (4.7 in)
Maximum diameter: 73mm / 2.9in
Length: 64mm / 2.5in
Weight: 215g / 7.6oz
35mm f/2.8 Di III OSD M1:2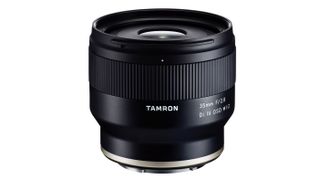 Last but not least is the Tamron. 35mm f/2.8 Di III OSD M1:2 which focuses down to just 15cm to get its 'macro' magnification.  its full specification list is as follows:
Model number: Model F053
Focal length: 35mm
Autofocus: yes
AF drive: OSD (Optimized Silent Drive)
Mount: Sony FE
Filter size: 67mm
Optical construction: Nine elements in eight groups
Diaphragm: seven blades
Maximum magnification: 1:2
Minimum focus: 0.15m (4.3 in)
Maximum diameter: 73mm / 2.9in
Length: 64mm / 2.5in
Weight: 210g / 7.4oz