Ahead of IBC in Amsterdam this weekend, Sigma has dropped news of three new FF High Speed Primes for videomaking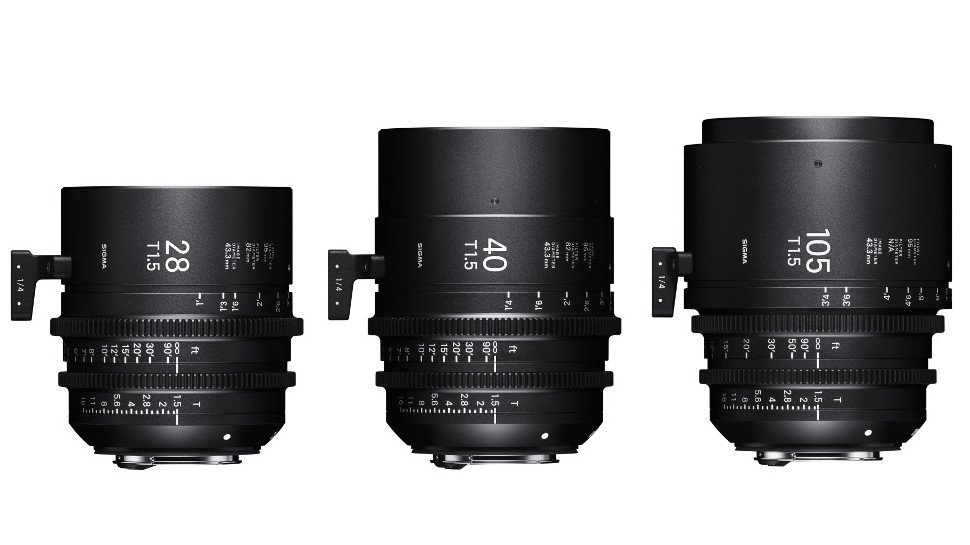 Sigma has expanded its FF High Speed Prime Line of cine lenses with three new offerings: the 28mm T1.5 FF, 40mm T1.5 FF and 105mm T1.5 FF.
These full-frame lenses have been optimised for high-quality shooting, with Sigma claiming they should perform exceptionally well even at ultra-high 6K and 8K resolutions.
Cine lenses, as the name implies, are lenses designed specifically with filmmaking in mind, rather than photography. To that end they are designed to have extremely precise manual focus control, as this is much more commonly used than autofocus in professional video, and use T-stops rather than F-stops. These work similarly to F-stops, but they measure not only how wide-open a lens is but also how much light is actually passing through it, allowing for more precise exposure control.
These three optics all carry aperture ranges of T1.5 to T16, and each one has a nine-bladed rounded diaphragm. They have minimum focusing distances of 0.3m for the 28mm lens, 0.4m for the 40mm optic, and 1m for the longer 105mm lens.
They are all going to be available in Canon EF mount, Sony E mount and ARRI PL-mount versions.
As well as the new models, Sigma also took the opportunity to announce that it is developing compatibility between the FF High Speed Prime Line and LPL mount, a lens mount designed specifically for ARRI's pro broadcast cameras. No exact word on when we can expect this to happen though – the official line from Sigma at the moment is '2019 or later'.
The three new lenses bring the Sigma FF High Speed Prime Line of cine lenses up to a total of 10 optics, covering a total focal range of 14mm to 135mm.
Pricing and availability
The three new cine lenses are all going to be available to test out at the International Broadcasting Convention, which is being held in Amsterdam from September 14th to 18th.
The 105mm lens has a confirmed retail price of £5,649, while pricing for the other two models is yet to be confirmed. Their releases are going to be staggered over the next few months, with the 105mm T1.5 expected in October 2018, the 40mm T1.5 towards the end of 2018, and the 28mm T1.5 in early 2019.
Source: www.digitalcameraworld.com