Nikon is launching a lightweight supertelephoto 500mm f5.6 prime which is bound to excite wildlife, sports and aviation photographers which can not afford the heavyweight alternatives. Nikon announced that it was working on the AF-S Nikkor 500mm f/5.6E PF ED VR lens back in June – and now the big-tom lens is a reality, going on sale in September.
Weighing in at just 1460g , is is under half the weight of the existing AF-S NIKKOR 500mm f/4E FL ED VR lens. Despite being a stop slower, the huge drop in weight is going to increase the appeal of a 500mm prime. The weight of the new lens is about the same as the popular AF-S Nikkor 70-200mm f/2.8E FL ED VR. The price is also significantly cheaper too – about £6000 less expensive than the 500mm f/4, to be precise.
What does PF stand for?
The secret in the loss of weight in this 500mm lies in the PF in its name. This signifies that it uses a Phase Fresnel lens element. First used in Nikon's 300mm f4E PF ED lens back in 2015, the fresnel element makes use of optical technology first developed for lighthouses developed by French physicist Augustin-Jean Fresnel back in 1819.
The PF element works with three ED (extra dispersion) lenses to allow "extremely sharp and detailed rendering that is compatible with high pixel-count digital cameras," according to the official Nikon press statement.
The lens is designed for full-frame FX DSLRs, but can be used with the new Z7 and Z6 mirrorless full-frame lenses using the FTZ adaptor. The lens can also be used with DX crop-sensor APS-C Nikon DSLRs, such as the D7200 or D500, giving an effective focal length of 750mm.
AF-S Nikkor 500mm f/5.6E PF ED VR: specifications
The lens features VR vibration reduction, allowing to users a shutter speed that is up to four-stop slower shutter speed than normal and still get shar images. There is a Sport VR mode which is said to be especially effective when photographing fast-moving and unpredictable subjects such as birds, sports or when recording movies.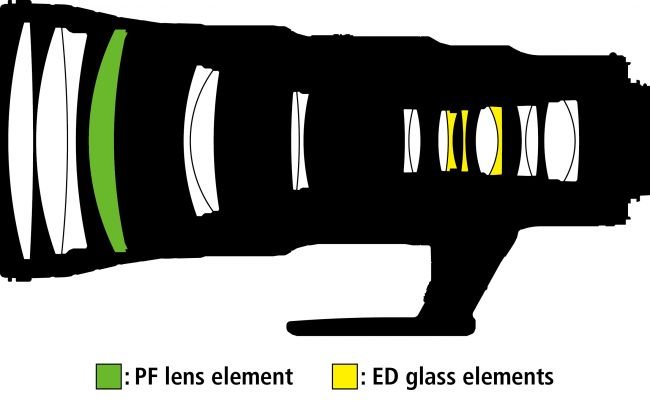 Other key features of the lens include:
• 19 elements in 11 groups
• Dust and drip-resistant structure
• Fluorine coat that effectively repels dust, water droplets, grease, and dirt
• Nano Crystal Coat suppresses ghosting and flare
• Normal and Sport VR modes
• Minimum focus of 3m
• 9 rounded diaphragm blades
• Focus limiter (5m – infinity)
• Memory recall (stores a focus distance for repeated use)
• Maximum diameter of 106mm
• 95mm filter ring
• 237mm length
• 1460g
• Detachable tripod collar
• Supplied lens hood
• Supplied soft case
Using the 500mm f/5.6 PF with a teleconverter
The Nikon 500mm f/5.6E PF ED VR can be used with Nikon's TC-14E AF-S 1.4x teleconverter, giving a focal length of 700mm on a full-frame camera.
We spoke to multi-award-winning wildlife photographer and former Nikon ambassador Richard Peter at the launch of the Nikon Z7, who had been using the new 500mm lens on safari in Africa. He had been using it with his Nikon D850 and 1.4x teleconverter and was impressed. He is not quite ready to give up his favorite Nikkor 400mm f/2.8 – but then that costs nearly four times the price at a £12,000!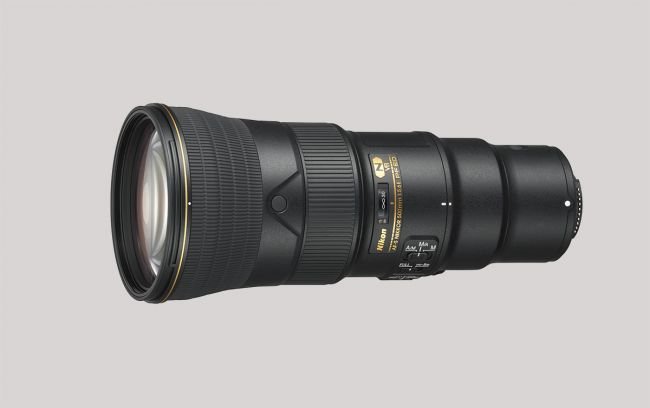 Nikon Dot Sight DF-M1
Nikon has also announced it is planning to release the Dot Sight DF-M1, an optional accessory that aids framing when using long lenses such as the 500mm. With super-telephoto lenses, the narrow field of view in the viewfinder makes it easy to lose track of the subject. The Dot Sight DF-M1 is mounted on the camera hotshoe and is said to make it easy to keep track of the intended subject within the frame, even if the subject exhibits sudden movement. This add-on is expected to sell for around $175.
Nikkor 500mm f/5.6E PF ED VR: price and availability
The AF-S Nikkor 500mm f/5.6E PF ED VR telephoto lens is due to go on sale from September 13, and will have a recommended retail price of £3,699 / €4,299 / $3,599.95.
Source : Digital Camera World