Introduction
Apple announced its latest set of smartphones in September 2019. This review concentrates on the iPhone 11 Pro, which, along with the iPhone 11 Pro Max, represents the company's latest flagship model.
Building on the success of the iPhone XS, the iPhone 11 Pro brings some new features for the camera that we've not seen before on any previous iPhone models.
The iPhone 11 Pro, and the iPhone 11 Pro Max, share camera specifications. There are three rear cameras/lenses, with a super wide angle lens being introduced for the first time, giving you an equivalent of 13mm with an f/2.4 aperture.
It is joined by the standard lens, which has a 26mm equivalent and an f/1.8 aperture, as well as a 2x telephoto lens, which gives you 52mm at f/2.0. All three of the cameras have 12 megapixel sensors.
As well as new hardware updates, there have also been a range of new software features which photographers are likely to find enticing too. There's a new Night mode, next-generation Smart HDR for photos, and an updated Portrait mode.
The iPhone 11 Pro is available in three different sizes – 64GB, 256GB and 512GB (you can't upgrade the amount of storage), at prices ranging from £1,049 up to £1,399 at the time of writing.
You can also buy the iPhone on a range of different handsets from many different operators, while Apple also operates a trade-in programme which can reduce the price if you have an old iPhone you're upgrading from.
Ease of Use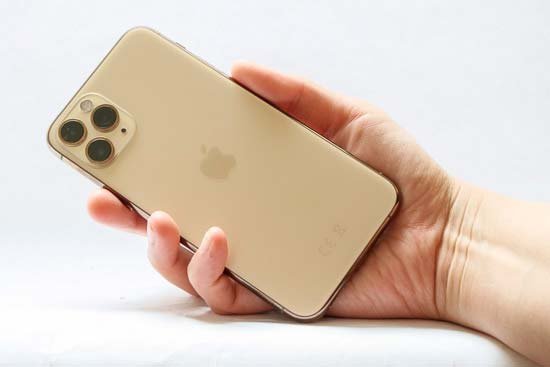 In terms of the outer construction of the iPhone 11 Pro, size and shape hasn't changed a huge amount from its predecessor the iPhone XS – but it is ever so slightly bigger.
The stainless steel frame has been retained, while there's also a glass back as well as that famous "notch" at the top of the screen.
The new iPhone's notch is much larger than those we've seen from many other recent Android phones, so if you like your screen unencumbered, you're out of luck.
The screen size remains the same from its predecessor, with 5.8-inches on offer. It's also still a super-retina OLED device with 2436 x 1125 resolution and HDR display, but the brightness has been upped a little for the iPhone 11 Pro, with 800 nits being available.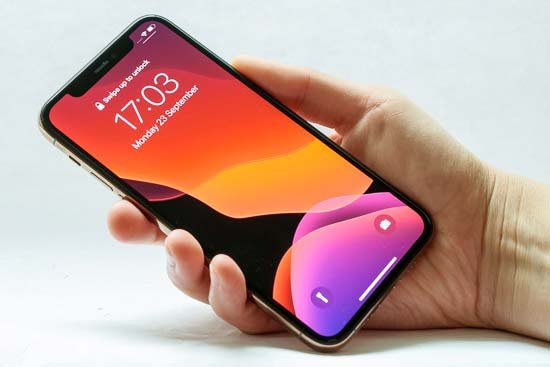 Front of the Apple iPhone 11 Pro
Apple also says that the technology has improved to make the screens more efficient and therefore have a positive impact on battery life.
Apple claims it has improved the iPhone 11 Pro to the tune of an additional four hours of life when compared to the iPhone XS, but of course this can vary depending on the intensity of the tasks you're asking the iPhone to perform.
Apple has stuck with its Lightning charger for the iPhone 11 Pro, but it does come with a USB-C to Lightning cable in the box, which makes it more compatible with current MacBook Pros which don't have standard USB ports.
We have been using the "gold" version of the iPhone 11 Pro, but there is also other colours available including "Space Grey", "Silver" and "Midnight Green". The biggest physical change you're likely to notice from the iPhone 11 Pro's predecessor is the lens setup on the rear of the phone.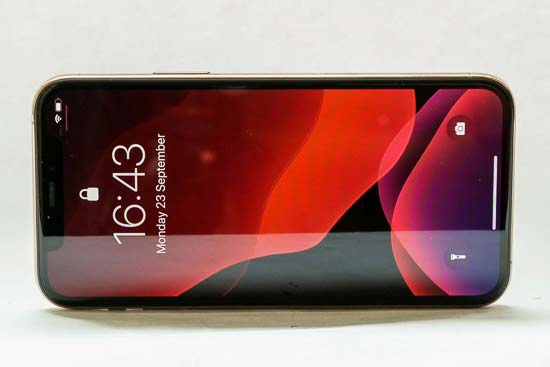 Front of the Apple iPhone 11 Pro
There are now three lenses, with each one also appearing to be physically larger than the previous two found on the iPhone XS. Like the iPhone XS, there's a "standard" lens which offers 26mm, plus a telephoto optic giving you 52mm – which now has a wider f/2.0 aperture.
A new introduction is the super-wide-angle "0.5x" lens, which gives you an equivalent of 13mm, with an f/2.4 aperture. These are arranged in a triangle formation on the back of the phone.
If you've ever used an iPhone before, you'll be at home with the native camera app as it hasn't changed a huge amount right from the very first iPhone. It's a simple and straightforward app, which has been streamlined even further in some ways for the iPhone 11 series.
You can launch the camera from the lock screen by performing a long press on the camera icon on the screen. Here you'll see that by default it launches in the standard "Photo" mode, which is probably what you'll be using most often.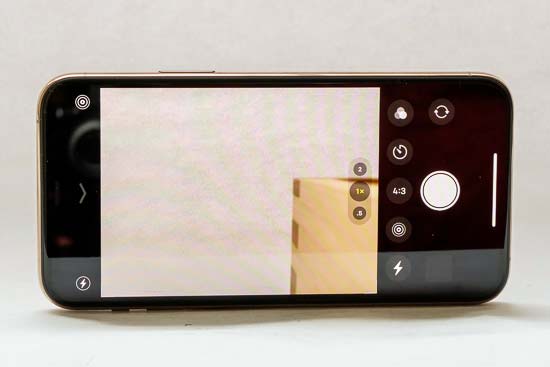 Front of the Apple iPhone 11 Pro / Camera Mode
Something to note here is that if you tap in the bottom left hand corner of the screen you'll be able to see the images you've previously taken – but if you've opened the camera from the lock screen and the phone is still locked, you won't be able to see any previously taken photos, just those captured in the current shooting session.
As the iPhone 11 Pro's app has been simplified a little, you'll notice that there isn't a huge amount of options to choose from in this main window. The first thing to take note of is the three small circles displaying ".5", "1x" and "2" – this is how you'll switch between the three lenses.
A fun new quirk is that when you tap between the lenses, the on-screen display will appear to zoom in and out, rather than creating a blackout as it switches between the lenses.
With that in mind, you can also pinch to zoom to choose between the different lenses, including choosing focal lengths between and beyond what the optical lengths offer.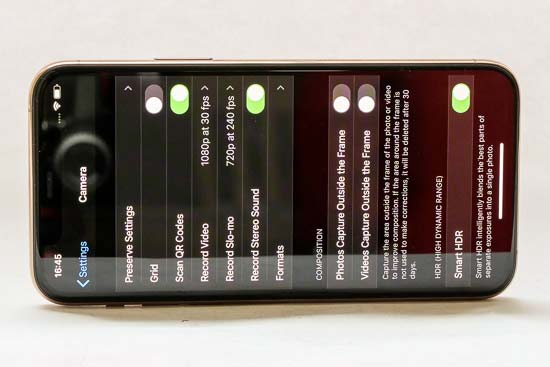 Front of the Apple iPhone 11 Pro / Settings
At the top of the screen you'll see there's an option to switch on or off the flash at the top left, or an option to switch on or off "live photos" (whereby a short amount of video is recorded with each image – which you can also use for other effects, too) – on the top right.
Other options which were more prominently displayed have been hidden away to give an overall cleaner interface – but you can access them again by tapping the arrow at the top of the screen.
Once you've done that you'll find an array of extra options, including further flash settings, further Live Auto settings, the option to adjust aspect ratio (plus there is a new setting available here, giving you the choice of shooting in 16:9), timer settings and access to digital filters. If Night Mode is activated, you'll also find additional Night Mode options in this space too.
Moving to the left and right of the main Photo window, there are a range of other shooting modes which you can take advantage of. To the left is Video, Slo-Mo and Time-Lapse, while to the right is Portrait and Pano.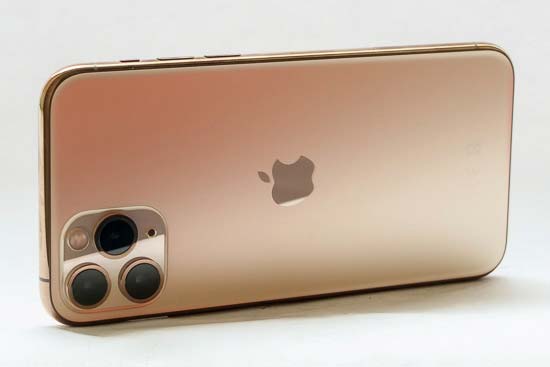 Rear of the Apple iPhone 11 Pro
Video recording is available up to 4k at 60fps, although frustratingly to choose between the different resolutions and frame rates you have to head into the iPhone 11 Pro's main menu, rather than adjust it directly from the app itself. Slo-Mo and Time-Lapse are fairly explanatory modes, and again you can change the resolution of Slo-Mo from the main menu.
Portrait mode is something we've seen on the last few iPhones, it allows you to create a shallow depth of field effect. Although it's called Portrait you can use it with other subjects, with particular optimisation for certain subjects such as pets.
You'll need to be a certain distance away from the subject in order for it to be activated, but it'll indicate on screen if you're too close to the subject.
By default, the Portrait mode will shoot with the standard "Natural Light" effect, but there's a range of other "lighting effects" you can also use, including "Contour Light", "Stage Light Mono" and the new "High-Ket Light Mono". You can alter the portrait effect in editing afterwards, by reducing or increasing the amount of blur, as well as choosing a different lighting effect.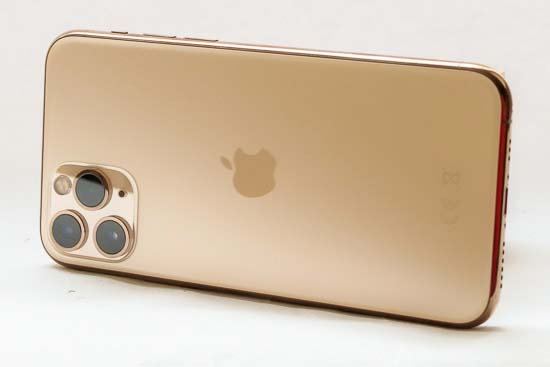 Rear of the Apple iPhone 11 Pro
You'll notice that there is no "Night mode" that you can actively choose. Instead, this mode automatically activates if the iPhone 11 Pro detects that there is not much light available in the scene.
It works by shooting a series of short exposures then blending them all together for the effect of a longer exposure. We have seen similar shooting modes before from other manufacturers, including Huawei with its own night mode, and Google with the "Night Sight" mode found on the Pixel phones.
Although automatically activated, you can take a little extra control of it if you wish – tap the night mode icon when it's in use and you can reduce the amount of seconds it shoots for if you prefer. Disappointingly, night mode can only be used with the telephoto or standard lens, and not the super-wide-angle.
If you've ever used an iPhone before, you won't be surprised to learn that there's no manual, advanced or pro modes with the iPhone 11 Pro.
If you're somebody who's coming from an Android phone it can be frustrating to be so limited, but if you crave additional control, there are plenty of more advanced third-party apps which can be downloaded.
via:photographyblog