It's the world's widest non-fisheye full-frame prime lens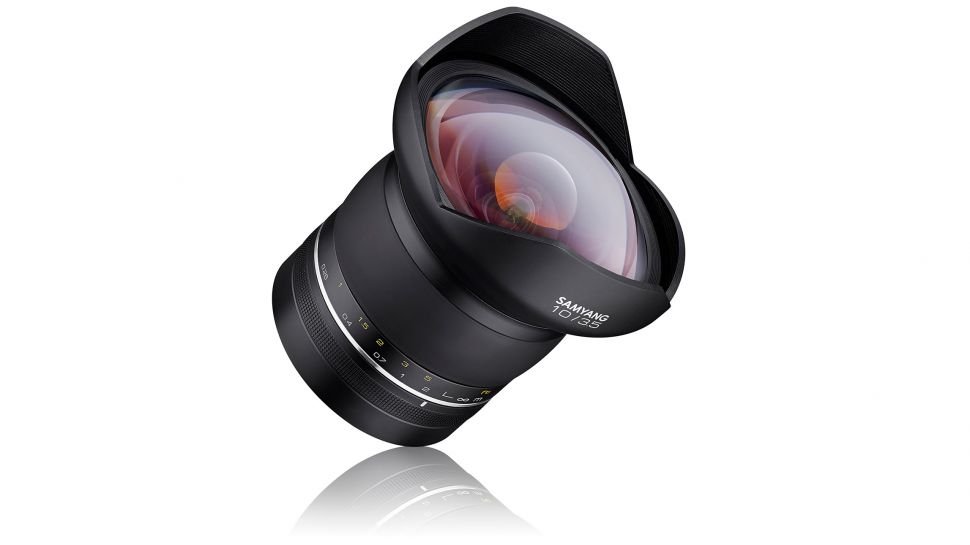 A 10mm lens would count as an ultra-wideangle for APS-C cameras, but the new Samyang XP 10mm F3.5, first revealed at Photokina 2018, is actually for full frame Canon DSLRs and soon Nikon DSLRs, making its distortion-free 130-degree angle of view even more remarkable. The lens will be sold as the Rokinon SP 10mm f/3.5 in North America.
Samyang says its new lens is ideal for landscape and architectural photography, and it's clear from the specifications that the XP 10mm F3.5 is designed for highly demanding users. Samyang may have made its name with low-cost prime lenses, but its XP range targets more advanced expert photographers and professionals.
The Samyang XP 10mm f/3.5 is the first of eight new lenses that Samyang is launching in the next few weeks – including launches at the CP+ 2019 photo trade fair which opens 28 February at Yokohama in Japan, and The Photography Show in Birmingham which starts on 16 March.
Optical construction
Inside the metal barrel of XP 10mm F3.5 is a highly sophisticated optical construction, consisting of 18 elements in 11 groups. This is the kind of complexity we'd normally associate with complex zoom lens designs, so it's an indication of Samyang's commitment to optical performance here.
The lens includes three aspherical elements, one high-refractive element and three extra-low dispersion lens elements. It has seven diaphragm blades. Weighing 713g, the lens measures 95 x 98.1mm. The minimum focus of this manual focus lens is 0.26m.
Flare and ghosting are taken care of by Samyang's own Ultra-Multi-Coating technology. Samyang says the new lens's design maximises image quality from the centre to the edges of the frame while removing distortion and aberrations. The company also says it offers high resolution of "more than 50 megapixels", which should satisfy Canon EOS 5DS and Nikon D850 DSLR owners.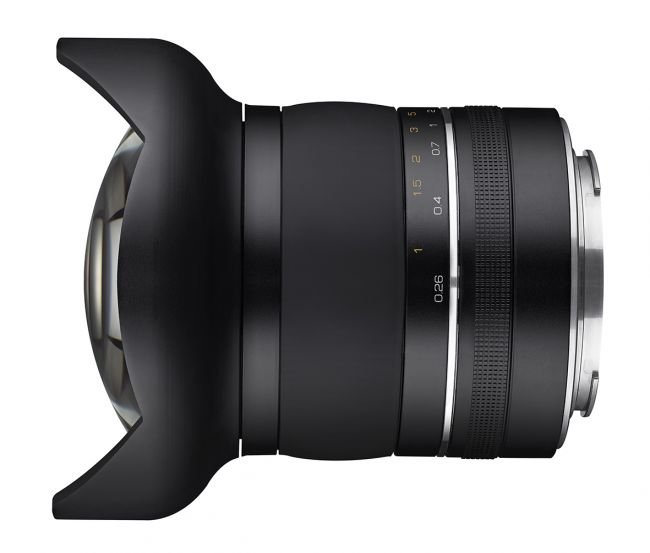 All this optical sophistication means the Samyang XP 10mm F3.5 is not cheap at around £950, but its specifications are unique in the full frame DSLR market, and the closest you can get to this lens in the current Canon EF range, for example, is the much larger and much more expensive £2,800/$2,700 Canon EF 11-24mm f/4L USM.
The Samyang XP 10mm F3.5 Canon version goes on sale in March 2019 at £949.99, with a Nikon version to follow.
This lens will be sold, as usual, under the Rokinon brand in the USA and Canada. The Rokinon SP 10mm f/3.5 will sell for $1,199.
Via: digitalcameraworld