All the latest information and what we expect from Canon's full-frame mirrorless successor
Canon finally launched its own full-frame mirrorless camera in October, the Canon EOS R. While it outsold the Nikon Z7 by a stunning two-to-one in Japan, and led to Canon capturing the mirrorless throne from Olympus and Sony, the EOS R was a mid-range camera; a follow-up, catering to a different market segment, was only a matter of time.
The rumour mill has been ablaze ever since with all manner of reports about what shape the next EOS R will take, and what segment of the market it will target. Will it be a pro model? An amateur model? APS-C? Medium format? Here is everything we know about the next iteration of the Canon EOS R.
Canon EOS RP – P for professional?
Recently a new camera name began appearing online: the EOS RP. Discovered by Nokishita, which spots unreleased cameras by looking for registrations at certification bodies, it isn't clear whether this is an internal codename or official moniker – though it doesn't quite conform to Canon's usual naming conventions.
Nonetheless, sleuths started predicting what that 'P' could stand for. In what might be a case of 2+2=22, some posited that it might stand for 'Professional' – which certainly jibes with a number of interviews with Canon executives confirming that a pro model of the EOS R is actively in development.
And just in case you were wondering whether the 'R' stands for anything, the answer is yes it does.
100-megapixel sensor
Further corroborating the notion that the next model will be aimed at professionals are the reports that Canon is working on an EOS R with a 100MP sensor, which would put it in medium format resolution territory.
Intriguingly, reports suggest that Canon ceased development on its successor to the EOS 5DS/R – the high-resolution version of the venerable EOS 5D. Given the EOS R's specs parallels to the Canon EOS 5D Mark IV, it would make sense that the next generation of the 5DS/R becomes a mirrorless model that sits similarly adjacent to the current R.
The same reports claim that Canon has also stopped developing a medium format product line. However, releasing a 100MP EOS R would enable the company to target the same high-resolution market being targeted by the likes of Fuji with its Fujifilm GFX 100S.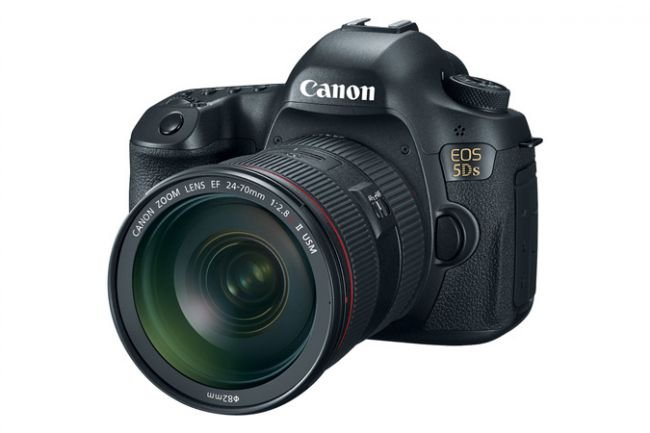 8K Video
Sony introduced its range of 8K electronics at CES 2019, but Sharp beat it to the punch in revealing the first 8K consumer camera. Clearly 8K is becoming the new frontier, especially for videography, and Canon isn't about to miss out.
"Video will play a huge role in the EOS R System for sure," said Yoshiyuki Mizoguchi, Group Executive, ICB Products Group, Image Communication Business Operations at Canon. "For example, an 8K video capable camera is already in our EOS R-series roadmap."
Of course, 'on the roadmap' means that it could be years before such a camera sees the light of day. However, confirmation that what would certainly be a professional-grade EOS R with 8K capability is on the cards is certainly tantalising. Especially to adopters and naysayers of the current model, with its well publicised 1.7x crop and 30p limitations when shooting 4K video.
In-body image stabilisation
One of the key criticisms of the Canon EOS R is its lack of in-body image stabilisation (IBIS) – an omission made, the company told us, because in-lens stabilisation is "the optimum way of doing it – but that's not to say that we aren't looking at in-body IS."
Indeed, Canon is reportedly working on an EOS R with IBIS. There have been rumblings that early prototypes for the existing EOS R had an IBIS system, but that it wasn't ready in time for the October 2018 launch.
With the cutting-edge cameras like the Olympus OM-D E-M1X and Panasonic S1Roffering unprecedented 7.5 stops and 6 stops of IBIS respectively, Canon's lack of stabilisation in its primary mirrorless offering sticks out like a sore thumb – remedying this will be important if the EOS R's successor is to stay on a level playing field.
A for amateur?
While Canon has confirmed that it is working on a professional version of the camera, Yoshiyuki Mizoguchi has most recently stated that the next iteration will actually be an entry level EOS R.
"We recognised that a lot of amateur customers are very interested in stepping up to full-frame through customer feedback," he said, "but due to varying levels of preferred features we are likely to launch an amateur model next to let a large group of customers step up and enjoy full-frame image quality."
It's certainly an interesting proposition. However, while there was plenty of critique that the EOS R was too underspecced to be used as a professional camera, we don't recall anyone saying that it was too overspecced to be used by amateurs.
Still, perhaps a stripped-down version could have a tilting screen, rather than a fully articulating one. The EVF might be dropped, since amateurs used to taking phone pics probably don't need one, and the polarising M-Fn Bar would be an obvious cost saving. Other than a smaller sensor, though, we're not sure what else could be trimmed from the current model.
Whatever the next version of the Canon EOS R looks like, it will face stiffer competition than ever from the likes of the Sony A6400 and Panasonic S1. Will it still hold up as one of the best mirrorless cameras? We can't wait to find out.
Via: digitalcameraworld