MINIMALISM AND STREET PHOTOGRAPHY
The emergence of minimalism in the 1960s, as the last movement in photography's modern era, was expected to underlie the dramatic changes in insight and aesthetics of this art. Structuralism, removing the formalities in presenting the work of art as well as briefness can be counted as some of its objectives. Due to the coincidence and proximity with minimalism's birth time, some schools such as Luminism were deeply affected by minimalism and its features in landscape photos. However, not along afterward, minimalism expanded its presence even to the borders of street photography.
Looking at minimalistic street photography helps us conclude that how easily, technical and aesthetic aspects of this movement show off in street photography. For instance, take the issue of required tools into account; it occurs according to photographers' needs and in fact, they need to avoid extremes in choosing tools. Likewise, a special attention is paid to photo's composition to create the maximum level of compression and brevity, and even beyond them, avoiding any additions and mannerisms in photos in order to have an intimate photo. Intimacy is regarded as a significant characteristic of this kind of photography. It's the photographer's task to convey this intimate feeling to the viewers and also to be able to invite them to go along the work through its friendly geometry. As a matter of fact, putting cumbersome tools aside and replacing them by smart phones could be a nice way to reach this closeness along with the fast flow of producing photos. Moreover, cell phones can have psychological impacts and also simplicity in social contexts, especially streets, for photographers.
Simply put, a minimalistic photo is supposed to create an eye-catching compound, out of the most fundamental and easy-to-reach subjects. In other words, a man, a wall and a window can be sufficient enough for the eye to discover an interrelation very basically. Similarly, a pose, and a city element in the depth of the picture or the steam caused by city underground maintenance and a frail old man are the elements that can be the result of meaning association: senility.
In this kind of photography, details are easily noticed since viewers explore the photo due to not crowded composition. For example, the reflection of building windows, the geometrical order of tourists beneath the Eiffel Tower, and even the resemblance between Citroen logo and the Eiffel Tower are among the tricks and playfulness of minimalistic street photography. In one of the Gonzalo Hohr's photos, the pretty high angle to people on the street has resulted in creating a minimalistic photo; the space where tourists are passing underneath the Eiffel Tower. We know very well that the basic principles of abstract photography is to notice point, line and shape. In such a situation, the angle can change people to points and the lines. Putting a small curve from the Eiffel in a frame, Gonzalo Hohr evokes less reality of this landmark in Paris and in fact, it can be again, a feature in service of minimalism in this photo. Aside from independence and strength, Gonzalo's photos of Paris resemble Robert Doisneau's joyful and humanitarian view in previous decades as well as André Kertész's unique aesthetics in 1930s in his formalistic photos of Paris.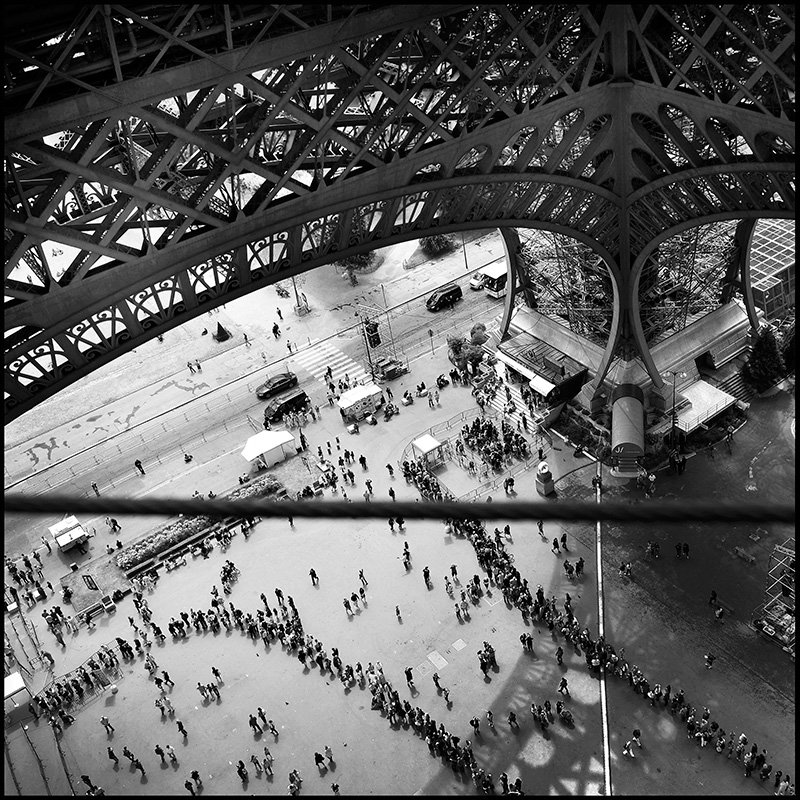 In all these works, the photographer plays the role of an inquisitive but creative by-passer who knows how to wander and explore the city and just needs the smallest thing to create a visually beautiful photo. Unlike the conventional street photography, minimalistic photography does not report. This kind of photography owes to instantaneous responses originating from photographer's sharp eyes and feelings that result in capturing the scene and the moment. In this type, data transfer is done as minimally as possible; story telling fades and philosophical interpretations of relations and conditions reach their lowest level. Here people are put in space-location relation as briefly as possible and subjectivity dominates the whole scene and condition. In minimalistic street photography, candid and frank record known as an undeniable feature of conventional street photography fades away and is replaced by detachment and abstraction.
MINIMALISM AND STREET PHOTOGRAPHY
  By Kiarang Alaei– (c) Copyright 2017 MinimalismMag.com