1. Hi John, I hope you are well. Briefly tell us about yourself.
I am a fine art photographer based in Toronto but I consider myself a true citizen of the world like my namesake. I am also an analyst and educator in the Behaviour Sciences but my pursuit of knowledge across many subjects will always be life-long and full of wonder. I have been an artist, or at least artistic in some way, since I can remember. As it is hard to sum yourself up in a few words without resorting to these types of identifiers, I can tell you, much like the Nietzchean proverb, I am always becoming who I am.
2. What or who got you started or inspired you in your photography?
Although the history of art and filmmaking certainly shaped my own vision and theories as a photographer (I also wanted to become a filmmaker at one point), I often think back to the books I read and my days in art classes where I drew a lot and explored many art forms. I remember picking up an old Kodak camera for the first time in my youth and it was like lightning hit me and I wanted to learn more about it. When I started to explore and read more about photography as an art form, there were some well-known quotes that really resonated and inspired me on my own path over the many years. Here are a few that I would like to share with your readers for those that may not familiar with them:
"It is said that Daguerre has found the means to collect, on a plate prepared by him, the image produced by the camera obscura, in such a way that a portrait, a landscape, or any view, projected upon this plate by the ordinary camera obscura, leaves an imprint in light and shade there, and thus presents the most perfect of all drawings … a preparation put over this image preserves it for an indefinite time … the physical sciences have perhaps never presented a marvel comparable to this one." – Journal des Artistes, 1835
"This machine can negate ninety-nine percent of what was called and still is called painting. Through it a man who knows how to really photograph is able to channel the impulses of human beings and to register the objective world directly, through the science of optics and the chemistry of silver and platinum, translated into tonalities subtle beyond the reach of any human hand." – "Is Photography a Failure?" Essay by Alfred Stieglitz, 1922
I often marvel at these words. To think that such an innovation could offer the world a means of recording their own lives, but more importantly, their own creativity in seeing and exploring the world around them in different ways, is quite phenomenal. The invention of the camera gave birth to an artistic way of life that we are all grateful for to this day. Can you imagine the world without photography? It's part of my DNA now. It would be like living without music.
"You don't make a photograph just with a camera. You bring to the act of photography all the pictures you have seen, the books you have read, the music you have heard, the people you have loved." – Ansel Adams
What a profound statement. Adams certainly encapsulates the idea of photography as a form of autobiography and a confluence of inspirations very well. In fact, you can say that he has offered glimpses into his own psychology as a creative artist. His work, along with many historically significant photographers like Henri Cartier-Bresson and painters like Mark Rothko, have informed my own oramagraphic pursuits and the way I approach and personally define fine art photography.
3. I truly admire your "Prelude to Silence" series. In my opinion, it is one of the best winter minimalism series that I've seen. Thereby, we have decided to select one of the photos as the cover of this issue. Could you please briefly describe the idea behind the series?
You are very kind to say so given that there are so many brilliant photos of minimalist winter scenes by many talented artists. As much as it is always about self-satisfaction for me as a photographer, I always consider it a high honour to have my work recognized in some way. Believe it or not, this award-winning series was the first time I ventured into minimalist snowscapes in my photography. It was inspired in some ways by Michael Kenna's images of "Hokkaido" but it wasn't the first thing I thought of when I took the photos and created the series. Memories of a slow, silent and a surreal fall of snow while walking along a path was what came to mind and I wanted to translate that feeling in my photos. The composition in each one of the photos is my way of trying to capture infinity in a moment. When I began to create the series, I became utterly fascinated again by the mathematics of nature and the idea of how order and chaos can almost cancel one another or offer a dialectic of sorts in an artist's psychology to produce this felt aesthetic of silence. As photographers, we are often attracted to one tree, one cloud, one person, etc. or even how the foreground-background, positive and negative space act as simultaneous elements and separate but inseparable parts of a scenic portrait within one frame that helps us fulfill our thematic intentions in profound but simple ways.
4. Your work can be classified in various styles of photography , but in all of them , or I should say most of them, the minimalistic approach is more dominant. What does Minimal photography mean to you?
Although I consider my approach and philosophy of photography as "Eclectic Aesthetic Fine Art", as I have become completely enamoured with experimenting with various styles, genres and approaches in and out of my comfort zone to fulfill my photographic visions, I do tend to gravitate towards a minimalist approach in my photography.
Minimalist photography is a way for me to focus my photographic visions within a matrix of lines, edges, intersections, contrast and angles (i.e., "LEICA patterns") to capture the essential expression of a subject within a composition while freeing the subject from being defined and restrained by other elements within the frame. To use an analogy, minimalistic photos are haikus and aphorisms rather than epic poems or treatises on a subject. They say a lot with so little. These types of photographs also offer an aesthetic, synesthetic and mindful experience for me. It is what I have tried to accomplish in both my "Prelude to Silence" series of snowscapes and my "Simplexity" series of architectural portraits highlighted in this issue.
5. The edits of your work are excellent and aesthetically beautiful. Certainly post production plays an essential part in you work. Can you tell us about your workflow, which software you use and how long you spend working on post-production?
Post-production is an important piece of the artful "eureka equation" for me. I am highly experimental in the way I approach a photo in the digital darkroom. It is a way to challenge myself in a counterintuitive way and to resist the seduction of a personal ubiquity in my vision or visual styles.
I use Camera Raw and Photoshop the most but I also use the Nik Software and Topaz Labs suites as required. Some of my best and most admired images were done with just plugins. It's almost anathema to say that you use plugins these days but they can offer a quick interpretation for further exploration. I don't spend a lot of time on my images nor am I am formulaic in my approach. I spend 1-8 hours at the most. As they say, less is more and sometimes more is less. I guess you can say I am also a minimalist when it comes to post-processing. It really doesn't matter how long it takes you or what tools you use as long as you get the result you want. Over time, you figure out many different ways to get maximum results in the least amount of steps. However, the final decider for me is the print and the presence it offers to the artist and the observer as Adams talked about. If the image prints well at various sizes, I am happy. The transition from the ethereal to the tangible is always extraordinary for me. I highly recommend that you print your images on quality archival papers if you have not done so. There is nothing like a printed and framed image to give you the ultimate expression of your work.
6. What is most important for you in your work?
Evolution.
It is easy to get stuck on a certain look or style. It becomes a self-reinforcing prophecy. It's important to always strive for something more in your art and to not always be satisfied with the status quo. Become self-inspired as much as you are inspired by others. Much like Picasso had his Blue, Rose, African-Influenced, Cubism, Classicism and Surealism Periods or Rothko had his Abstract Expressionism, Colour Fields and Multiforms, we all go through phases but I think it is an artistic imperative to try to advance the art form and become "Outliers" as Malcolm Gladwell, the Canadian Author, described in his famous book. This is not always easy to achieve but the pursuit is well worth it. Evolution can give birth to multiple revolutions in art, science and technology and it has been that way throughout our known history.
7. I know you've participated in many competitions and won many titles. What impact have they had on your success and your career as a photographer?
I have been quite fortunate and humbled by the international titles I have received for my photography. I am beyond chuffed to say that I have received several awards across various categories over the years (e.g., Abstract, Architecture, Automotive Advertising, Fine Art, Nature, Landscapes and People's Choice) for various black and white, colour and infrared photographs and series. When I entered contests, it was important to me to enter various works across various themes. I guess you can say that I have been true to my own philosophy and psychology of photography by doing so. I have also had one of my photos displayed at the Louvre in Paris as part of an award ceremony which was unimaginable to me and beyond my wildest dreams.
I think it's fair to say that international awards can have an impact on a photographer's success given that their photography is seen by many in the industry and the community at large. At the same time, I have had publishers, galleries and art collectors say to me that it wasn't necessarily the awards that drew them to my photography, but my eclectic approach and passion as an artist that was palpable in my photography. That was a high honour in itself if not the highest for me. In some ways I am also saying that awards are not the end-all-be-all for an artist. It can be daunting to enter such contests but also fun to see what happens. There will be years where you will receive many awards and not many if at all in another year. So be it. Do not worry about what others say. If this is something you want to do because it will make a difference for you in your photography, then do it.
8. What is your favorite website or blog you visit often?
I don't really have a go-to blog or website (unless you count my own). All kidding aside, I search for whatever strikes my fancy. Most of what I have read and has inspired me in the last few years has nothing to do with photography. However, I have really been struck by Nick Brandt's "Inherit The Dust" series on the impact man has had on climates where animals use to roam, and Edward Burtynsky's "Essential Elements" where he explores humankind's impact on the environment across the globe. More and more, I have been thinking of exploring various other avenues in my photography. Again, it is all about a personal evolution for me.
9. If you have an upcoming workshop or exhibition, we would appreciate you letting us and our readers know about it.
Some of my photography is being featured in the new film "Greece Year Zero". It is a cinematic essay about the last 120 years of Greece's tumultuous and largely untold story by the talented writer and cinematographer Dannis Koromilas. I am proud to be part of his magnum opus and this momentous event in our history. The film will be released in late Fall, 2016.
I have had my work displayed in exhibitions in Athens, Paris, Dubai, Vancouver, Toronto and on billboards across Canada over the years. I am currently represented by the Rotella Gallery (SOHO, New York and Bellevue, Washington) where you can collect some of my Limited Edition prints at various sizes. I had an exhibition in New York in late April of this year. I was also recently in Bellevue for the grand opening of the new location with Art Wolfe and Michael Levin, two amazing artists that have inspired me and who I admire tremendously. I had a chance to unveil a new print "Eternity's End" and dedicate it to the many great photographers I had a chance to meet in San Francisco for the first time (or meet again like Nathan Wirth, Marc Koegel (with whom I conduct several workshops), Grant Murray, Athena Carey, Brian Day, Swee Oh, Cameron Siguenza, and many others.
I will also be doing some talks and workshops at the "Out of New York" Photography Conference in mid-October 2016 with many talented photographers. For those interested, there are more details on my website. There are several other projects in the planning stages that I am unable to talk about at the moment, but I guess, dear readers, that's what keeps things interesting for all of us.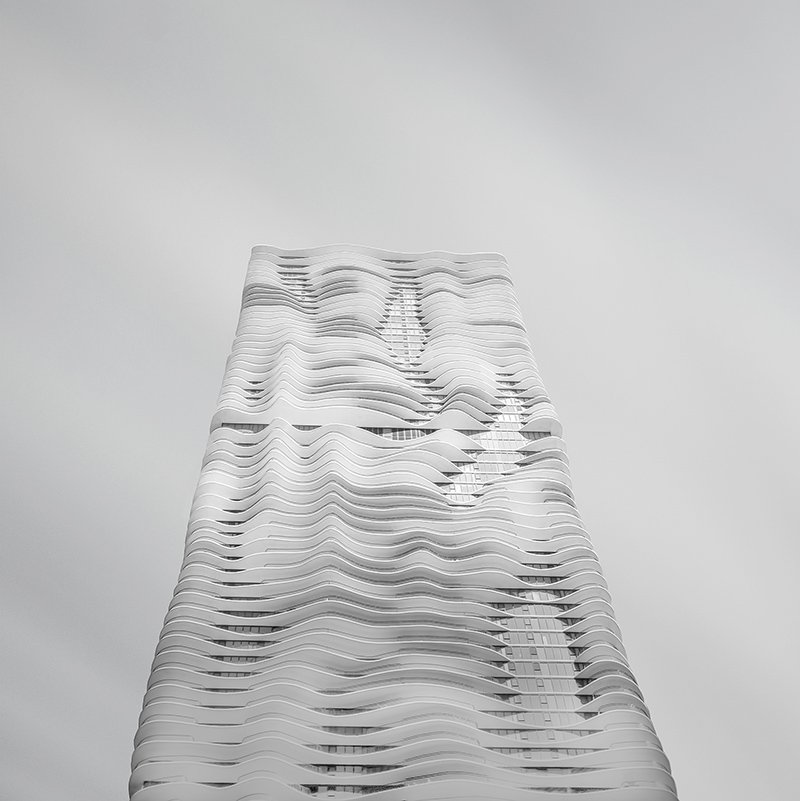 10. What are your plans for the future?
Travel is certainly in my future. My plans are varied but I do have some photography projects in mind for some series. I have been currently working on my ever-expanding "Mysteries" series of day-to-night transformation type photos of New York. My thematic intention is to depict serene but hauntingly beautiful blackout-like scenes in various stages that tap into the emotional experiences of many who can appreciate how such moments can offer a shared closeness with one another.
As you were part of my future plans at one point, I want to thank you for the honour of featuring my photography in the inaugural issue of B&W Minimalism Magazine alongside some incredible artists.
B&W Minimalism Magazine Issue 01